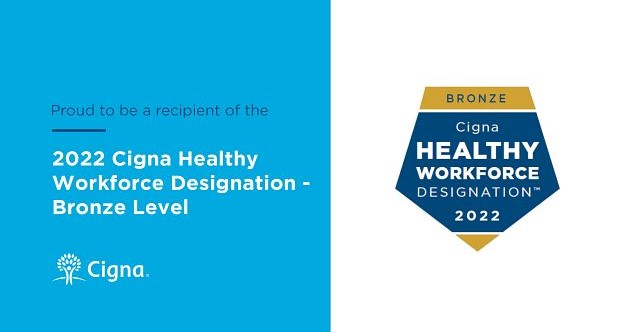 Wellness Incentives & Rewards
Norwich University uses the Cigna MotivateMe platform to encourage and reward healthy behaviors. All benefit-eligible staff have the opportunity to participate and earn up to $300 in gift cards annually.
Employees can select and participate in any of the activities below to earn rewards.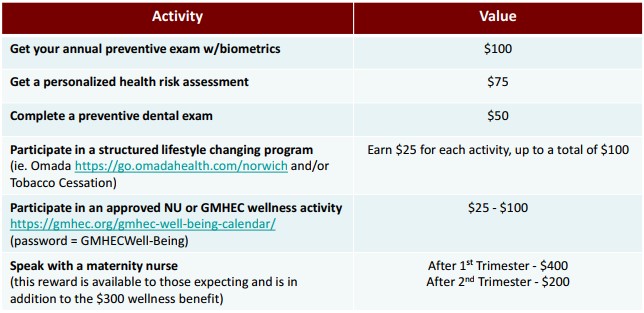 To get started:
Visit mycigna.com, login, and select Wellness from the top navigation bar
Or download the myCigna Mobile App
There you'll find:
A list of incentive eligible activities
Details on how to get started
Instructions on how to earn and redeem your rewards
Cigna offers a wide variety of behavioral health resources as part of your health insurance benefit.   Please use the link below for information on programming for emotional health & well-being, mental health, substance abuse, coaching and support, and lifestyle management programs.  Participation in this programming could count toward your MotivateMe rewards.
Cigna Behavioral Health Directory 
If you have questions or want further information, please contact HR – nuhr@norwich.edu or 485-2084.
GMHEC Wellness
GMHEC Well-being Events
Please visit the calendar of Well-being Events sponsored by the Green Mountain Higher Education Consortium by clicking below:
Password: GMHECWell-Being
For more information related to well-being with GMHEC please click the button below:
NU @ Work – Workers' Comp Info
Norwich has recently contracted with Concentra for any on-the-job injuries that may occur.  This is a reminder on steps to follow if you are injured:
Notify your supervisor and Human Resources
Complete a First Report of Injury within 72 hours of the incident.
Get authorization to treat at Concentra if it is necessary – please do not go to your personal provider or use your personal insurance.  Once the claim is submitted, HR will provide you with a claim number.
Follow any treatment or restrictions and keep your supervisor and HR up to date with your progress.
Participate in an injury response assessment.
Be careful and stay safe!  If you have questions or need further information, please contact HR @ nuhr@norwich.edu
GMHEC: Managing overwhelm and enhancing our mental well-being
It is not news that there is a mental health crisis in our county.  We have been hearing about it a lot lately.  In August of 2020, the CDC reported that among U.S. adults, symptoms of anxiety had tripled, and symptoms of depression had quadrupled since 2019.  Pandemic fatigue, job losses and loss of income, living in a constant state of uncertainty about the future, worries about the health and well-being of our loved ones, a loss of the way of life as we had known it, living in a virtual world, and being constantly connected to our screens, juggling work and parenting…. it's no wonder that our mental well-being is suffering.
While it may feel overwhelming there is a lot we can do to enhance our resilience and mental well-being.  Here are just a few easy strategies you can implement to give you a boost.
The Ergonomics of Working from Home
From Rebecca Schubert – GMHEC
With so much to think about in our new reality of working from home, one thing that we often fail to consider until it's too late is the ergonomics of our home work space. over time poor ergonomics can lead to musculoskeletal issues including carpal tunnel syndrome, tendonitis, bursitis, back and neck pain as well as headache, fatigue and decreased productivity. By using the simple acronym NEW we can get our ergonomics in check and stay healthy and productive when working from home.
N – Neutral Posture: a neutral seated posture should include sitting with the neck straight, shoulders straight down loosely at the sides, elbows at a right angle, wrists straight, low back supported on the back rest of the chair, 90o at the hips, 90o at the knees, and feet should be flat on the floor or on a footrest. An adjustable chair or desk, mouse and wrist pad can be very helpful in achieving neutral posture. 
E – Eye and Elbow Height: Whether seated or standing – ensure that the keyboard and mouse are positioned at the elbow level. The top of the monitor should be at or slightly below eye height. Keeping the monitor about an arm's length away will help reduce eye strain. Dual monitors should be located closely together and at the same height and distance so that the eyes do not have to re-focus and the head does not turn significantly when looking between the monitors.
W – Work Area: Keep items that are used frequently in the primary work zone which is the area when elbows are at the sides and items that are used less often in the secondary work zone or area within the outstretched arms. The keyboard and mouse should be positioned in the primary work zone, centered with the user and monitors.
A few other things to keep in mind are to take frequent stretch and movement breaks, practice the 20-20-20 rule to reduce eye strain and adjust lighting to reduce glare. Check out the CDC's computer workstation checklist here to make sure your work space is on par to support your best health, energy and productivity.
NU Wellness
We are looking for a Wellness Ambassador! To learn more, please click on the button below:
Wellness Committee Roster
Rija Ramahatra – Wellness Chair
Anna Van Luvender
Jennifer Gagnon
Deborah Alhers
Benjamin Sabo
Corey Bennett
Ann Harvey
Sarah Quincey
Gerrad Bohl
Pam Koppelmann
Rebecca Schubert – GMHEC
Kelsey Detwiler – Cigna
Mari Walsh – The Richards Group
Great news! There are spots in the Omada program through Cigna that are now open at no cost to you if you're eligible. Click the button below for more information: