Wellness
2020 Wellness Incentives/Credits
In 2020, Norwich University will continue to offer employees the opportunity to reduce their bi-weekly medical premiums by satisfying certain requirements. Norwich applies an initial $20 wellness premium surcharge to every benefit eligible employee's base medical premium. Employees have the opportunity to achieve two separate $10 incentives by:
Being Tobacco Free or Completing or Enrolled in a Cessation Program:
All benefit eligible employees who do not or did not use tobacco in 2019 or who are currently enrolled in a cessation program during the 2019 calendar year will attest to being tobacco free by completing a declaration at annual open enrollment. For those who attest they are tobacco free, an incentive of $10 will be applied towards their overall cost of benefits.
Current tobacco users who are making attempts to quit are eligible to receive free nicotine replacements (for example, patches, gum, and lozenges) through Cigna (www.mycigna.com). The Vermont Quit Network is available for additional support at 1-800-QUITNOW (1-800-784-8669) or www.802quits.org
Having Completed an annual Physical in 2019 or Having Scheduled an Annual Physical in 2020:
Because completion of an annual physical and preventive screenings, such as paps, mammograms, colorectal screenings, prostate cancer screenings, etc., recommended by your primary care provider is a critical component of wellness, all benefit eligible employees who had an annual physical and recommended screenings during the 2019 calendar year (or who have one scheduled in 2020) will receive a $10 premium incentive to reduce their bi-weekly premiums for health insurance in 2020. You will be asked to attest to this by completing a declaration during Open Enrollment.
You are also encouraged to obtain any immunizations recommended by your provider.
2021 Wellness Incentives/Rewards
New in 2021, Norwich University has moved to the Cigna MotivateMe platform to administer Wellness incentives and rewards. This new program allows all eligible Norwich University employees the opportunity to participate in the program and earn points towards a $300 maximum in gift card rewards annually.
Employees can select as many or as few of the activities below to participate in and earn points towards their rewards.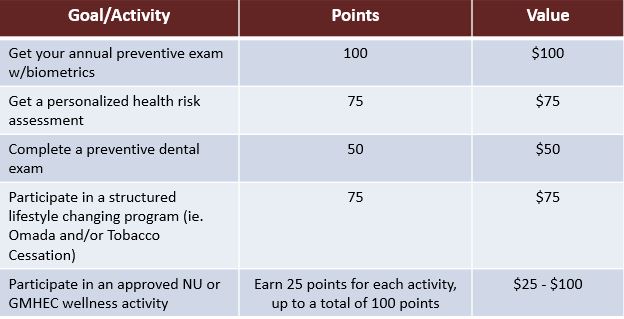 Please note that the new MotivateMe platform will be unavailable to visit or review until 1/1/2021. 
To get started:
Visit mycigna.com, login and select Incentive Awards Program
Or download the myCigna Mobile App
There you'll find:
A list of available healthy actions and goals
Details on how to get started
Instructions on how to earn and redeem your rewards
Workplace Wellbeing Video
Green Mountain Higher Education Consortium Wellness Welcome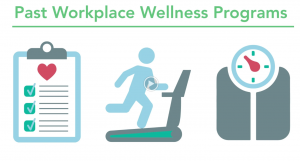 https://drive.google.com/file/d/1ioEWtZWkdawqa6wBLc98jre_miDl-TZ3/view
The Ergonomics of Working From Home
From Rebecca Schubert – GMHEC
With so much to think about in our new reality of working from home, one thing that we often fail to consider until it's too late is the ergonomics of our home work space. over time poor ergonomics can lead to musculoskeletal issues including carpal tunnel syndrome, tendonitis, bursitis, back and neck pain as well as headache, fatigue and decreased productivity. By using the simple acronym NEW we can get our ergonomics in check and stay healthy and productive when working from home.
N – Neutral Posture: a neutral seated posture should include sitting with the neck straight, shoulders straight down loosely at the sides, elbows at a right angle, wrists straight, low back supported on the back rest of the chair, 90o at the hips, 90o at the knees, and feet should be flat on the floor or on a footrest. An adjustable chair or desk, mouse and wrist pad can be very helpful in achieving neutral posture. 
E – Eye and Elbow Height: Whether seated or standing – ensure that the keyboard and mouse are positioned at the elbow level. The top of the monitor should be at or slightly below eye height. Keeping the monitor about an arm's length away will help reduce eye strain. Dual monitors should be located closely together and at the same height and distance so that the eyes do not have to re-focus and the head does not turn significantly when looking between the monitors.
W – Work Area: Keep items that are used frequently in the primary work zone which is the area when elbows are at the sides and items that are used less often in the secondary work zone or area within the outstretched arms. The keyboard and mouse should be positioned in the primary work zone, centered with the user and monitors.
A few other things to keep in mind are to take frequent stretch and movement breaks, practice the 20-20-20 rule to reduce eye strain and adjust lighting to reduce glare. Check out the CDC's computer workstation checklist here to make sure your work space is on par to support your best health, energy and productivity.
Wellness Newsletters

GMHEC Flu Shot Season is Upon Us
It's likely that flu viruses and the virus that causes COVID-19 will both spread this fall and winter. Healthcare systems could be overwhelmed treating both patients with flu and patients with COVID-19. This means getting a flu vaccine during 2020-2021 is more important than ever.  While getting a flu vaccine will not protect against COVID-19, there are many important benefits, such as:
Flu vaccines have been shown to reduce the risk of flu illness, hospitalization, and death.
Getting a flu vaccine can also save healthcare resources for the care of patients with COVID-19.
The CDC recommends getting vaccinated before flu viruses begin spreading in your community, since it takes about two weeks after vaccination for antibodies to develop in the body and provide protection against flu. Most of the time flu activity peaks between December and February so getting vaccinated in October and into early November will offer the greatest protection.
You can get your vaccine at your primary care practice and at many local pharmacies.
Staying in network for your vaccine will ensure that your vaccine is covered, and you don't incur any unexpected costs.  Most pharmacies offer flu vaccine on a walk-in basis, but it's always a good idea to call ahead to make sure they have vaccine available and a staff person to administer the vaccine when you arrive.
This year it's more important than ever for all of us to take action to keep ourselves and those around us safe and healthy and getting vaccinated is one of the best ways we can do that.
Please also visit the GMHEC website for more information: https://gmhec.org/flu-shot-season-is-upon-us/
For a list of Cigna in-network pharmacies offering flu shots please visit: https://www.cigna.com/individuals-families/member-resources/flu-shots
GMHEC Well-being Events
Additional Information